The Natural Wine Fair. Borough Market, London. 15,16 & 17 May 2011.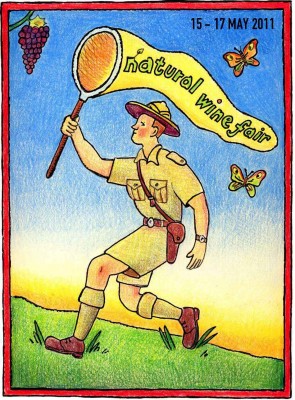 «This fair is the brainchild of THAT CRAZY FRENCH WOMAN (aka Isabelle Legeron MW) and five natural wine importers who, between them, represent dozens of different natural wine producers here in the UK. This fair is all about trying to get natural wines out there for everyone to taste.
All of us involved in the fair share the same love of this extraordinary drink. We love wine made with grapes and nothing else. So we thought why not do something together, and here we are.
120 growers are now onboard and will be over in the UK for the 15, 16 and 17 May this year, complete with 500 of their wines. Come along and meet them. We'll give you a catalogue, tasting glass and you can have a taste of them all if you really like.
We're also organising a series of events and talks by keynote speakers in the natural wine field so keep in touch and we'll let you know what's what, when and where.
ALL grapes are, at a minimum, organic
ALL grapes are hand-harvested
NO added yeasts
NO added sugar
NO rectified acidity
Little or no sulphites are added during fermentation or at bottling*
*For us, low sulphite levels means that the grower is ultimately aiming to add as little SO2 as possible but whether or not (s)he does so, or indeed how much they add, is dependent on the year.
The fair is being held at Borough Market, one of London's foodie hotspots.
How to get there:
Borough Market is set beneath the railway viaducts between the river Thames and Borough High Street in South East London.
The closest tube stop is London Bridge (Borough Market exit).»